Programmed Activities
Contract with RTLC staff to get the most out of our on-camp activities!
Hiking: Spend an hour or a day on one of the beautiful trails starting on Rainbow Trail's site. Our hikes range from 1 to 14 miles, with gorgeous views on every one! For hike days, RTLC can provide pack-out lunches and staff members to guide your group.
Archery: Learn a new skill at our archery course! RTLC staff will teach your group how to use a bow and arrow to hit a target – you'll be shooting like Katniss in no time!
High and Low Ropes: Build community and trust with your group as you progress from team-building games on the ground to our high ropes course 30 feet in the air! RTLC staff can lead your group through a customized session of both low and high ropes. Check out a video of our new high ropes course below!
Arts & Crafts: Find your artistic side, with RTLC staff leading your group in a craft suited to your needs.
Woodcarving: Learn the basics of woodcarving, and go home with your very own piece! This classic RTLC activity is a hit with campers both young and young at heart.
Labyrinth: Walk the winding path of our labyrinth in prayer or meditation. Our staff will introduce you to the ancient concept of labyrinths, and teach you to use it in your personal spiritual practices.
Campfires: What's a trip to camp without a campfire and s'mores? Finish your busy day by gathering around a crackling fire.
Worship & Music: Let Rainbow Trail's musically-inclined staff members plan a worship session for your group. This worship can include liturgical elements like communion and traditional prayers, or can be more laid back with just worship songs.
Recreational Activities
Utilize RTLC's equipment and facilities for even more activities with your group!
Hiking
Horseshoes
Volleyball
Basketball
Frisbee
Sledding
Snowshoeing
Board Games & Puzzles
Check out our new High Ropes Course!
Our high course is now especially well suited for team building. Climb up our 25-foot cargo net with a partner, then traverse the four high elements with a group of four. Test your individual abilities on the first set of elements, rely on your team on the Islands in the Sky, lean on a partner on the Wild Woozy, and then demonstrate your quick thinking and teamwork on the final challenge, the King Swings. We can't wait to see you there!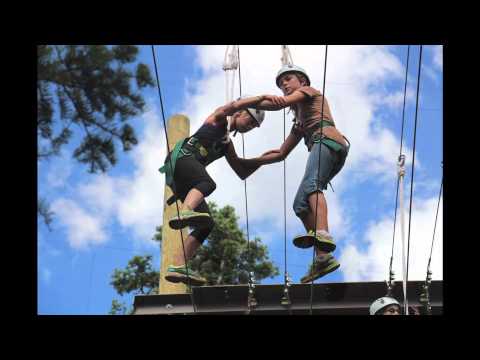 Ready to set up your retreat?
Call our camp office at (719)942-4220 or email us at retreats@rainbowtrail.org to get started!